Sama
Akihabara: Soup curry
Sama (Akihabara: Soup curry)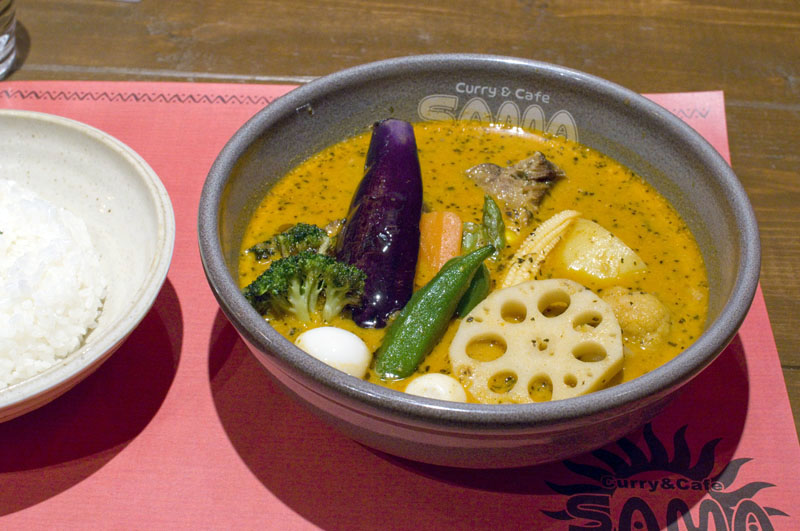 Sama
Open 11:30am-3, 5-9pm (LO) daily.

: Open Sundays
---
Five different soup bases are available to choose from at this fancier-than-average Hokkaido soup-curry cafe. The umami-rich creamy-shrimp soup, made with soy milk, really brings out the flavor of the individual curry ingredients, although it can be rather salty. Other soup options are regular (non-soy milk) shrimp, tomato, coconut and "assari," which is described as a "wafu-style dashi." All soups can be spiced up to your liking, on a spiciness scale of zero to thirty.

Sama's main curry variations include chicken; pork kakuni; Hamburg steak; and tandoori chicken paired with minced pork, cilantro and cheese. The pork kakuni is fantastic - perfectly fatty and flavorful, it would hold its own against just about any izakaya kakuni in town. The pork-vegetable soup curry comes with a good-size helping of pork kakuni as well as flash-fried bell pepper, baby corn, lotus root, cauliflower and other vegetables.

If you want to try everything on the menu in one gut-busting bowl, the Mega Sama DX Soup Curry (Y2000) mixes chicken, pork kakuni, Hamburg steak, quail egg, cheese and ten vegetables, accompanied by a large-size portion of rice. Whichever main curry you choose, you can further customize it with 27 different toppings, ranging from deep-fried burdock to scallops and cube steak.

The drinks list is also a cut above average. Highballs (whiskey-soda cocktails) are made with a choice of Dewar's, Chivas Regal or Talisker 10-year-old, and start at Y200 during Happy Hour. Craft beers from North Island, Hokkaido's best brewery, are Y850 per bottle for pilsner, weizen or brown ale.
Akihabara
Chiyoda-ku, Soto-Kanda 6-15-4.
H—tŒŽ
"Œ‹ž"sç'ã"c‹æŠO_"c6-15-4 MVKƒrƒ‹1F
Location on Google Maps