Kogane (Gaienmae: Izakaya)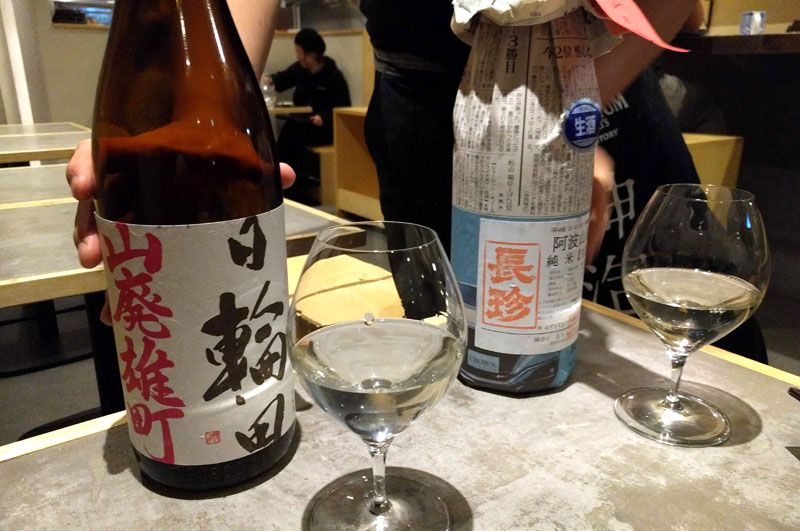 Kogane
Open 5pm-12:30am (LO; Sat, Sun -11:30) daily.

: Open Sundays

: No smoking
---
This very hip late-night dining bar near Gaienmae might be the best place in the neighborhood for sake after 11pm. The kitchen specializes in organ-meat dishes, and a glance at the menu reveals a diverse lineup of creative dishes - tempura-fried calf sweetbreads, stewed beef tripe with tomatoes, spaghetti with cod roe, oxtail soup with champon noodles, grilled beef tongue, kakuni braised pork.

There are plenty of salty, sake-compatible snacks as well - seared mentaiko, chashu slices, grilled ray fins, dried mullet roe. The excellent french fries come with your choice of three different seasonings - consomme, seaweed-salt, and truffle-cheese.

In addition to around a dozen seasonal sakes, drinks options include organic-lemon and other fresh-fruit sours, highballs, shochu, Italian house wines and beer. Budget around Y4,000-5,000 for a full meal, or less if you just want a couple of drinks and snacks. Last order is 1:30am on Fridays, 12:30am other weeknights, and 11:30pm on Saturdays and Sundays.
Gaienmae
Shibuya-ku, Jingumae 3-42-15.
Location on Google Maps
Tokyo Beyond Sushi - the guidebook
Explore the hidden side of Tokyo dining
Charcoal-grilled pork on skewers, udon noodles in curry-flavored soup, octopus dumplings, deep-fried beef cutlet -- there's a whole world of exciting food in Tokyo that food-loving visitors often miss out on.

This book will introduce you to more than twenty of Japan's favorite specialty foods that are less well known abroad, along with a guide to the best places in Tokyo to try them and expert tips on what to order. From Bento.com.
---