Kiiro (Gaienmae: Izakaya)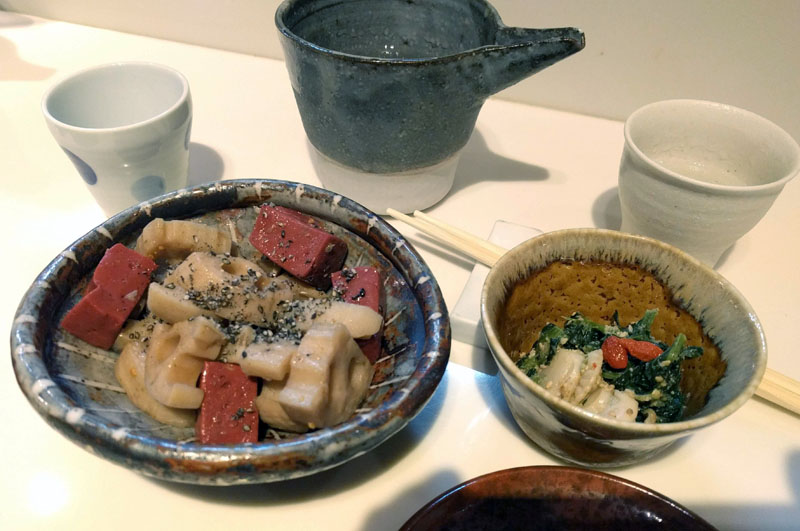 Kiiro
Open 11:30am-2, 6-10:30pm (LO). Closed Sundays.
---
Kiiro is a comfortable local izakaya with very good food and sake. The sake list showcases well-chosen craft sake from small breweries around the country, and it includes a good number of special seasonal labels, which the staff can help you navigate. Portion sizes for food are larger than at a typical izakaya, so this is a good place for group gatherings.

The food menu is simple and straightforward, relying more on top-quality ingredients than fancy recipes. Charcoal-grilled chicken is made with Daisen-dori birds from Tottori Prefecture, an heirloom-breed bird originally bred for fighting, and now prized for its flavorful meat. The scrumptious chashu (braised pork loin) is simply one of the best we've had in Tokyo, and is highly recommended. Even staple dishes like lotus-root kimpira, crabmeat croquettes and goma-dofu are several levels up from the average izakaya.

Service is friendly and proactive - voluminous dishes will generally come divided into smaller portions, so you don't have to cut things up yourself. Budget around Y6,000-7,000 for ample, high-quality food and drink, which includes a Y500 per-person table charge.
Gaienmae
Minato-ku, Kita-Aoyama 3-2-5, NH Aoyama Bldg B1F.
ŠO‰''O
"Œ‹ž"s`‹æ–kÂŽR3-2-5 NHÂŽRƒrƒ‹ B1F
Location on Google Maps
Tokyo Beyond Sushi - the guidebook
Explore the hidden side of Tokyo dining
Charcoal-grilled pork on skewers, udon noodles in curry-flavored soup, octopus dumplings, deep-fried beef cutlet -- there's a whole world of exciting food in Tokyo that food-loving visitors often miss out on.

This book will introduce you to more than twenty of Japan's favorite specialty foods that are less well known abroad, along with a guide to the best places in Tokyo to try them and expert tips on what to order. From Bento.com.
---