Papapapa Pine
Machida: Ramen
Papapapa Pine (Machida: Ramen)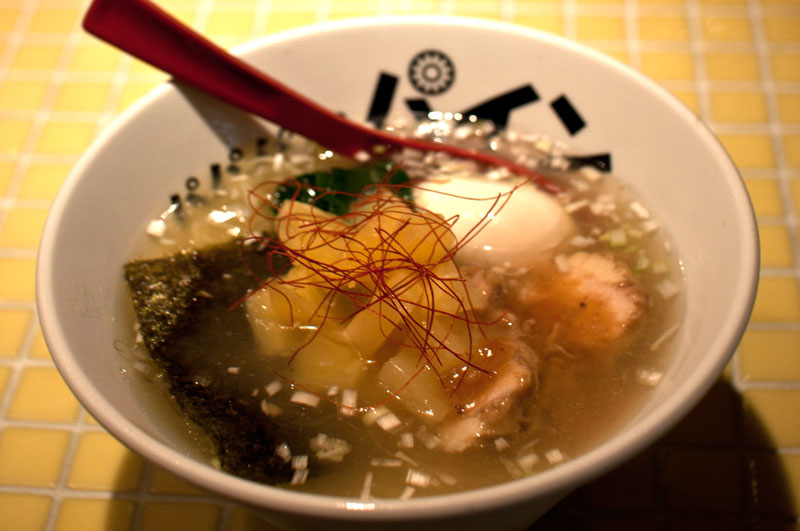 Papapapa Pine
Open 11am-3, 6-9pm. Closed Tuesdays.

: Open Sundays

: No smoking
---
At first, pineapple ramen sounds strange, maybe even downright awful. But imagine some other things that have been matched with pineapples. Pineapple and a sweet terriyaki sauce make a great burger topping. Pineapple glaze is amazing on ham and pork chops. And thousands of Hawaiian-style pizzas are ordered every day. Does it work with ramen? You bet.

Papapapapine's interior is decorated from top to bottom with pineapples. Go for the shoyu with all the toppings (Y920). You'll get extra pork, extra chopped pineapple, and an egg that has been marinated in, you guessed it, pineapple juice. The soup isn't too sweet, just enough to match the saltiness of the soy sauce.

Papapapa Pine also has occasional limited bowls that use other fruit. Figs, bananas, and strawberries have all made their was into bowls at Papapapa Pine.
by Brian MacDuckston
Machida
Machida-shi, Hara Machida 3-1-4, Machida Terminal Plaza 2F.
町田
東京都町田市原町田3-1-4 町田ターミナルプラザ 2F
Location on Google Maps
Browse:
Tokyo Beyond Sushi - the guidebook
Explore the hidden side of Tokyo dining
Charcoal-grilled pork on skewers, udon noodles in curry-flavored soup, octopus dumplings, deep-fried beef cutlet -- there's a whole world of exciting food in Tokyo that food-loving visitors often miss out on.

This book will introduce you to more than twenty of Japan's favorite specialty foods that are less well known abroad, along with a guide to the best places in Tokyo to try them and expert tips on what to order. From Bento.com.
---