Umami Burger
Omotesando: Burgers
Umami Burger (Omotesando: Burgers)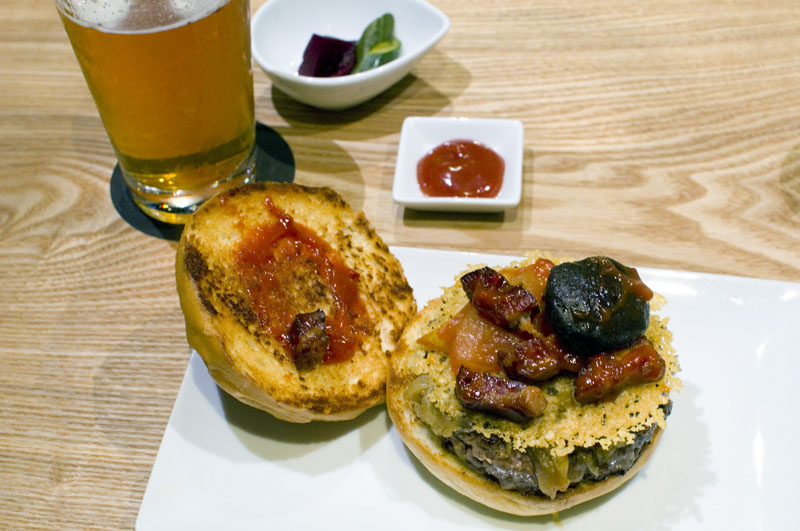 Umami Burger
Open 11am-9:30pm (LO) daily.

: Open Sundays

: No smoking
---
The Umami Burger delivers a giant blast of rich, meaty flavor, more than living up to its name. The signature dish at this California-based gourmet burger shop, it has been carefully crafted from a palette of savory, glutamate-rich ingredients - shiitake mushrooms, caramelized onions, parmesan crisps, roast tomatoes - that work beautifully together.

The "umami ketchup" that comes on the side has been put together in the same way, as the natural glutamates of tomatoes have been intensified with the addition of anchovies, oyster sauce, Worcestershire sauce and truffle salt, the last item imparting a distinctive truffle aroma that's very appetizing. Unlike other gourmet burgers that seem focused on showing off the quality and flavor of the meat patty, the ingredients of the Umami Burger work together as a whole, coalescing into a complex and very satisfying blend of flavors.

The kitchen turns out a dozen different beef-based burgers, variously featuring components like wasabi aioli, fried lotus root and cabbage (the Teriyaki Burger); kimchee and coriander (the K-BBQ burger); apple wood-smoked bacon and onion strings (the Manly Chick Burger); and truffle aioli, truffle cheese and truffle glaze (the Truffle Burger). There are numerous optional toppings, including two different kinds of bacon. The falafel burger and fish-curry burger serve as non-beef options.

Umami Burger's Aoyama branch is probably the fanciest of the new crop of gourmet burger shops in town - a nicely appointed restaurant dining room with comfortable communal and group tables and a spacious counter. The menu is wider than average - it's definitely burger-centered but there are also numerous side dishes, salads and attractive dessert options. There are several wines by the glass and a respectable selection of seven US and Japanese craft beers on tap and several more by the bottle.

Beers on tap include breweries like Firestone, Saint Archer, Sierra Nevada and Sankt Gallen, with a few bottled options from Minoh and Hitachino Nest. If you're in an adventurous mood you can try original cocktails with names like Blackberry Swizzle, Spicy Mezcalrita, and Maple-Bacon Old-Fashioned.

Prices here reach the upper zone of Tokyo burger shops - the Umami Burger is one of the cheapest options at Y1380, but fries and other side dishes are extra. Wines start at Y900 per glass and craft beers are priced at Y950-1300 for a pint.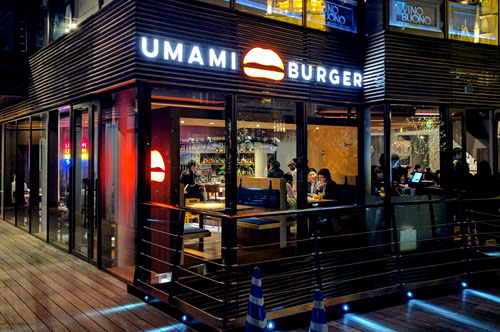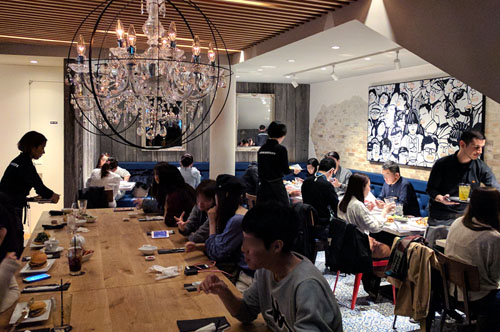 Omotesando
Minato-ku, Kita-Aoyama 3-15-5, Portofino 1F.
Location on Google Maps