We Are the Farm
Ebisu: International
We Are the Farm (Ebisu: International)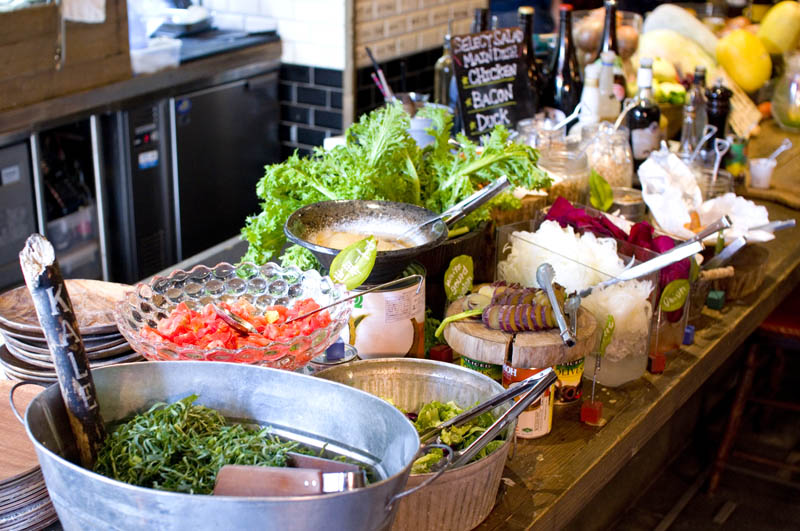 We Are the Farm
Open 11:30am-2:30, 5-11pm (LO) daily.

: Open Sundays
---
Why yes, this restaurant does have a manifesto - it's painted on the outside walls and front door. There's also a collection of farm tools decorating the entrance, reminding diners that this is, indeed, the farm. It's an organic farm of course, and gorgeous, freshly harvested organic vegetables are the centerpiece of the very healthy-looking menu here.

Don't worry, there's meat as well - small-farm raised duck, pork and chicken - playing a supporting role to the vegetables. For example the very popular salad lunch (Y1300) includes a portion of grilled meat along with your DIY salad, plus a cup of vegetable soup and some freshly made bread. Although it's not all-you-can-eat, the salad plate is reasonably large, and you add some hearty grilled potatoes to balance out all the rabbit food.

At dinnertime main dishes start at around Y2000, and there are prix-fixe options There's also an open-bar party plan with eight dishes for Y4980. Open all afternoon on weekends.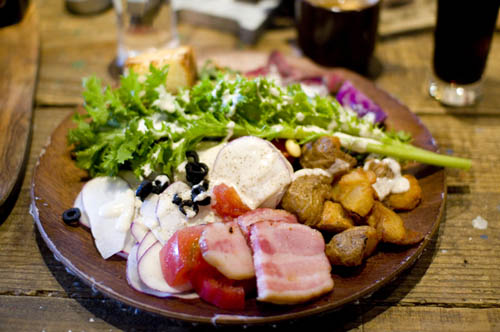 Ebisu
Shibuya-ku, Ebisu-Nishi 2-8-10.
Œb"δŽυ
"Œ‹ž"sa'J‹ζŒb"δŽυΌ2-8-10 ORIXŒb"δŽυΌƒrƒ‹1F
Location on Google Maps