Park Hyatt Delicatessen
Nishi-Shinjuku: Sandwiches/ deli
Park Hyatt Delicatessen (Nishi-Shinjuku: Sandwiches/ deli)
Park Hyatt Delicatessen
Open 11am-8pm (Sat, Sun -7pm) daily.

: Open Sundays

: No smoking
---
Quite simply, the Park Hyatt Delicatessen sets the standard for gourmet deli counters in Tokyo. They do an excellent job of supplying both hard-to-find gourmet luxuries (imported olives, hams, smoked fish) and simple yet appetizing ready-to-eat fare (sandwiches, soups, etc.). Everything is ready to go, but you can also plop yourself down at a table in the stylish dining nook and enjoy your chosen morsels there, along with a nice glass or two of wine.

The gourmet foods portion of the deli counter offers an impressively broad selection. Delicacies like pork and duck rillettes, potted shrimp and chicken livers (all sold in cute little white ceramic pots), several types of smoked salmon and other fish, terrine de campagne by the slice, and assorted breads. There's a ready-made basket of five good cheeses plus figs and raisins - just add wine for an instant wine-and-cheese party. Lentil salad, couscous and roast asparagus will help fill your vegetable requirements. Imported olive oil ranges from Y1800 to Y18,000 per bottle, and there's even a gourmet olive oil and vinegar bar where you can try out some of different flavors.

But you can find nice cheese and olive oil elsewhere in town; it's the ready-to-eat dishes where the Park Hyatt really shines. The hotel kitchens upstairs turn out flawless quiches, hearty lasagna and tasty meatballs and perfect mashed potatoes (with a delightful sprinkling of toasted garlic chips) - each with an unexpected ingredient or spice or slight twist in the recipe that sets them apart. At lunchtime there are off-the-beaten-track choices like a Middle-Eastern-style lamb wrap sandwich, wild rice salad, bread pudding - all of them very well executed.

At 4pm they roll out the more substantial evening menu. They also display an enticing selection of desserts for your mid-afternoon coffee break - pear compote, profiterolles and orange croissant pudding were some of the highlights during a recent visit. During the warmer months of the year you can enjoy your breakfast or lunch in the sunshine, on the deli's outdoor terrace.
by Robb Satterwhite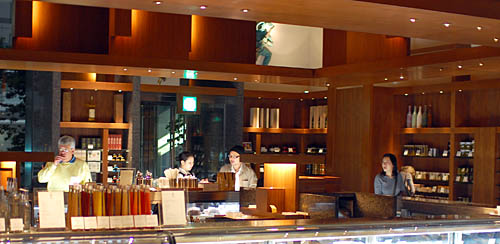 Nishi-Shinjuku
Shinjuku-ku, Nishi-Shinjuku 3-7-1-2, Park Hyatt Hotel 1F.
西新宿
東京都新宿区西新宿3-7-1-2 パーク ハイアット 東京 1F
Location on Google Maps