Vegetable carving - cucumbers
---
Japanese Fan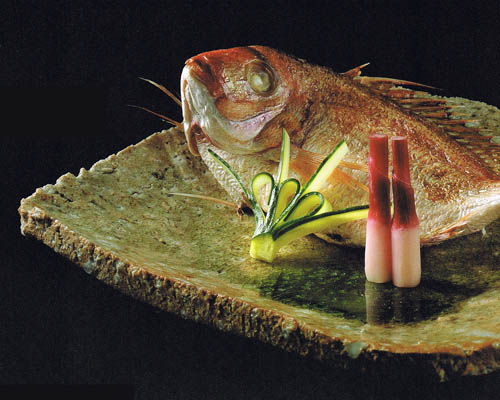 Grilled Sea Bream
Here the tableware and fish provide a pleasing range of colors from yellow to green to brown. The red tops of the ginger sticks complement the brown, so the Japanese Fan garnish needs only to pique visual interest with movement and form.
An additional benefit is the way it draws in the greens and yellows. Any simple slab form, whether meat or fish or vegetable, is easily enlivened with this garnish.
| | |
| --- | --- |
| 1. Cut a 2-inch (5cm) length from the top of a cucumber, about 1/2 inch (1.3cm) high and 1/2 inch (1.3cm) wide. Make 6 cuts and even widths (about 1/12 inch/ 2mm). | 2. Fold in every other leaf to make loops. |
| 3. Make 3 loops. | 4. Remove the peel from the base of the Fan. Soak in water for 30 seconds. |
Leaf Boat Canape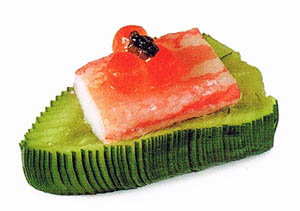 Crab and Cucumber Canape Topped with Salmon Roe
Here the decorative garnish is half of the offering. With its light and relatively neutral taste, the Japanese cucumber provides a wonderful base for any food combination you could think of, whether it involves seafood, meat, poultry, cheese, or even, say, a vegetable pate. Try making this garnish with raw or parboiled carrot.
| | |
| --- | --- |
| 1. Cut a cucumber in half lengthwise, then into 2-inch (5cm) lengths. Finely score each piece, stopping about 1/8th inch (3mm) from the bottom. Set skewers or chopsticks along the sides of the cucumber to stop the blade, if necessary. | 2. Cut in half lengthwise, then soak in a weak saltwater solution (1 tbsp salt to 1 cup/240 ml) for 1 or 2 minutes, then rinse and wrap in a cloth to draw off the rest of the water. |
| 3. Shape each side of the boat to make the narrow point of the bow. | 4. Bring the two halves together and finish shaping. |
The crisp, light taste and texture of the Japanese cucumber make the perfect counterpoint for any number of tender morsels of meat, poultry, or seafood. For simplicity of preparation, try slices of cheese with a dollop of dressing, or toss on some baby shrimp or diced barbecued chicken for a two-minute fix.

For something more elegant, consider thin slices of lightly grilled marinated lamb or thinly sliced scallop sashimi seasoned in a light wasabi sauce.
Switchback Cut
Salmon, Cheese and Cucumber
The petit, crisp Japanese cucumber is ideally suited for garnishes and appetizers, as it is easy to cut and can be eaten raw. Here it is paired for texture and color with salmon and cheese, but the Switchback Cut could work equally well with small portions of sardine, sliced ham, slivers of bacon seasoned with parsley, and so on. Substitute carrot or other crispy veggies for the cucumber.
| | |
| --- | --- |
| 1. Cut a 2-inch (5cm) length from a cucumber. | 2. Poke the knife through the middle 1 inch (2.5cm), leaving 1/2 inch (1.3cm) on each side. |
| 3. Cut on a diagonal to the cut made in step 2. | 4. Keeping the cucumber on the cutting board, roll it 180 degrees and make a second cut. |
| 5. Pull apart. | 6. The finished garnish. You can create different effects by varying the cuts in steps 3 and 4. |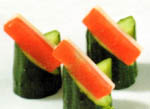 The Japanese cucumber has begun to appear on American supermarket shelves, and seeds are now an option for vegetable gardens in some areas. Crunchy, light, and edible raw, Japanese cucumbers - along with carrots, red radishes, and daikon radishes - are perfect material for decorative food art. They do not require marinating or salting before use.
Source Notes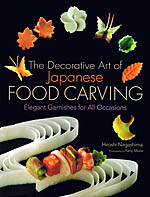 Reprinted with permission from the book:
The Decorative Art of Japanese Food Carving: Elegant Garnishes for All Occasions
Kodansha International
Japanese cuisine is renowned for the beauty of its presentation. Among the key elements in this presentation style are mukimono -- the decorative garnishes and carvings that add the final flourish to a dish.
In The Decorative Art of Japanese Food Carving, internationally acclaimed chef Hiroshi Nagashima offers 60 edible garnishes and food carvings for home, party or professional use. Some are designed to be set on top of the food. Others are fashioned to hold the food -- and sometimes, they simply are the food.
Each is introduced in full color, with easy-to-follow, step-by-step instructions, sample food arrangements, further ideas and secret, insider tips for successful presentation. Most are simple enough for the amateur chef to master, although a few are quite challenging and require much practice.
The Decorative Art of Japanese Food Carving is more than a practical handbook, however. It is also an inspiration book, filled with creative suggestions and inventive ideas to enhance and transform the way we cook.
ISBN4-7700-3087-8
More articles
---
---
---
---
© Copyright Lobster Enterprises
© Copyright Lobster Enterprises
© Copyright Lobster Enterprises