Cocoro
Akihabara: Soup curry
Cocoro (Akihabara: Soup curry)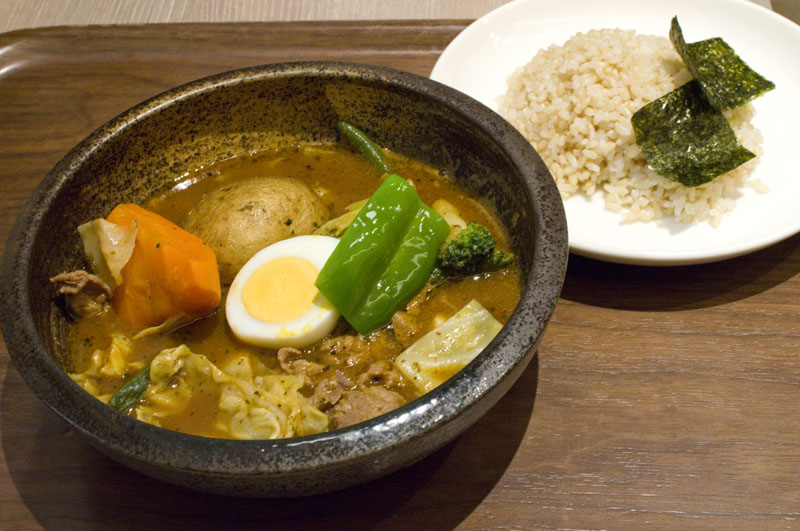 Cocoro
Open 11am-10pm (LO) daily.

: Open Sundays

: No smoking
---
A branch of one of Sapporo's most popular purveyors of soup curry, Cocoro is known for their flavorful tomato-basil soup base and their optional brown rice to accompany your curry. Among the dozen or so curry variations are a few unusual ones - there's a super-spicy habanero-pepper curry and a "spice curry" with three types of cheese.

Our lamb and vegetable curry contained several slices of pleasantly gamey lamb, balanced by a soup that was a bit lighter than expected. Vegetables included crisp bell pepper, a couple of green beans, ample amounts of cabbage, and a boiled potato with the skin still on. You can select a spiciness level anywhere from zero to one hundred, although we'd recommend starting on the lower end of the scale.

Cocoro's utilitarian dining room is pleasant enough - this branch is located on the restaurant floor of Yodobashi Camera, a multi-story electronics shop. The background music, with competing sources of music coming from different speakers, can be annoying, however, so bring headphones if you can. Curries start at around Y1000.
Akihabara
Chiyoda-ku, Kanda Hanaokacho 1-1, Yodobashi Akiba 8F.
H—tŒ´
"Œ‹ž"sç'ã"c‹æ_"c‰Ô‰ª'¬1-1 ƒˆƒhƒoƒVAKIBAƒrƒ‹8F
Location on Google Maps
Tokyo Beyond Sushi - the guidebook
Explore the hidden side of Tokyo dining
Charcoal-grilled pork on skewers, udon noodles in curry-flavored soup, octopus dumplings, deep-fried beef cutlet -- there's a whole world of exciting food in Tokyo that food-loving visitors often miss out on.

This book will introduce you to more than twenty of Japan's favorite specialty foods that are less well known abroad, along with a guide to the best places in Tokyo to try them and expert tips on what to order. From Bento.com.
---