Wise Sons
Marunouchi: Sandwiches/ burgers
Wise Sons (Marunouchi: Sandwiches/ burgers)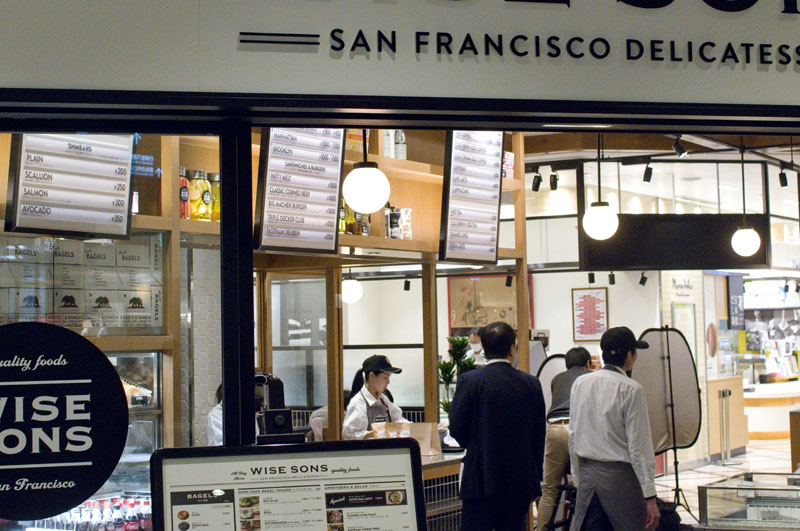 Wise Sons
Open 7:30am-9pm (Sat, Sun 8:30-8) daily.

: Open Sundays

: No smoking
---
Pastrami and corned beef sandwiches are the specialties of this San Francisco-based Jewish delicatessen. Other delicacies, many of them rarely seen in Tokyo, include rugelach, babka, coconut macaroons and honey cake from the pastry counter, matzo ball soup, chopped liver toast, and challah french toast.

The pastrami and corned beef are particularly good here, and they're both available on their own (in small 120g packs at Y800) as well as in sandwiches. Our corned-beef Reuben was tasty enough but could have used more sauerkraut, although it did come with some excellent cole slaw. They also do burgers, but these are fairly average for Tokyo.

Bagels are another popular item, especially at breakfast time, and they come in several variations, with or without a shmear of cream cheese. The bagels are a bit lighter and less chewy than we're used to, but still better than the typical Tokyo bagel, if somewhat higher in price. An everything bagel with a salmon shmear runs to Y600, while a loaf of rye bread is Y900.

Cold brew iced coffee and cold crema iced coffee are among the coffee options, and they serve several beers from San Francisco's Anchor Brewery - a rather tame selection compared to the craft beers popping up elsewhere around town. Note that the dining room doesn't open until 11am; before that it's take-out service only.
Marunouchi
Chiyoda-ku, Marunouchi 2-4-1, Marunouchi Bldg. B1F.
丸の内
東京都千代田区丸の内2-4-1 丸の内ビルB1F
Location on Google Maps
Tokyo Beyond Sushi - the guidebook
Explore the hidden side of Tokyo dining
Charcoal-grilled pork on skewers, udon noodles in curry-flavored soup, octopus dumplings, deep-fried beef cutlet -- there's a whole world of exciting food in Tokyo that food-loving visitors often miss out on.

This book will introduce you to more than twenty of Japan's favorite specialty foods that are less well known abroad, along with a guide to the best places in Tokyo to try them and expert tips on what to order. From Bento.com.
---