Daidaiya
Shinjuku: Asian fusion
Daidaiya (Shinjuku: Asian fusion)
Daidaiya
Open 5pm-midnight (LO) daily.

: Open Sundays

: Notable decor
---
Spectacular "nouvelle Japonaise" cuisine in a stunning modern setting. Standout items on the menu include cold stuffed cabbage kimchee with cashew nuts, minced tuna and Korean bean paste (Y780), sauteed foie gras served on lotus-root cakes (Y1600), and homemade Satsuma pork sausages with a fresh wasabi-mayonnaise sauce.

There's also a large a la carte sushi and tempura selection, with items like scallop tempura with green-tea salt (Y200 a piece). The wines are nothing special, but the house sake is a very drinkable Tsukasa-botan at Y1,000 a glass, and there's a full cocktail menu. Plan on spending Y5,000-10,000 per person for a superb meal; reservations are a must.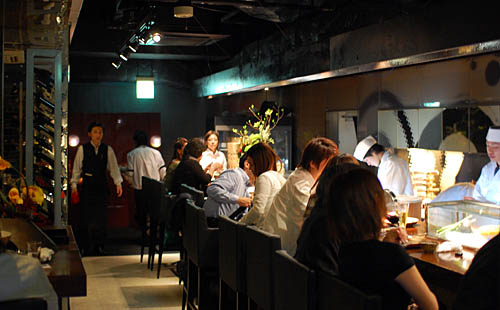 Shinjuku
Shinjuku-ku, Shinjuku 3-37-12, Shinjuku Nowa Bldg. 3F.
Vh
"Œ‹ž"sVh‹æVh3-37-12 VhNOWAƒrƒ‹3F
Location on Google Maps
Tokyo Beyond Sushi - the guidebook
Explore the hidden side of Tokyo dining
Charcoal-grilled pork on skewers, udon noodles in curry-flavored soup, octopus dumplings, deep-fried beef cutlet -- there's a whole world of exciting food in Tokyo that food-loving visitors often miss out on.

This book will introduce you to more than twenty of Japan's favorite specialty foods that are less well known abroad, along with a guide to the best places in Tokyo to try them and expert tips on what to order. From Bento.com.
---