Bikini Tapa
Shibuya: Spanish
Bikini Tapa (Shibuya: Spanish)
Bikini Tapa
Open 11am-3, 5-10pm (LO) daily.
: Open Sundays
---
A bit more ambitious than your typical tapas joint, Bikini offers "modern Catalan cuisine," including an extensive selection of pinchos and other small dishes. The Y1800 special lunch includes a platter of five pinchos followed by an excellent seafood-heavy fideua - just like paella, but made with short pasta noodles instead of rice. Budget around Y3500 at dinnertime.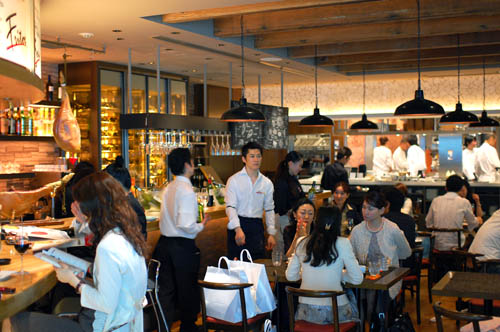 Shibuya
Shibuya-ku, Dogenzaka 1-12-5, Mark City East 4F.

Full-size map
Directions on Google Maps
Browse:
Tokyo Beyond Sushi - the guidebook
Explore the hidden side of Tokyo dining
Charcoal-grilled pork on skewers, udon noodles in curry-flavored soup, octopus dumplings, deep-fried beef cutlet -- there's a whole world of exciting food in Tokyo that food-loving visitors often miss out on.

This book will introduce you to more than twenty of Japan's favorite specialty foods that are less well known abroad, along with a guide to the best places in Tokyo to try them and expert tips on what to order. From Bento.com.
---